This course was formerly called SysML 102.
SysML 201 - Model-Based Engineering - Fundamentals: Creating SysML Models
The next offering of this course is as follows (in combination with SysML 101; must register for both classes this time):
Contact Russell.Peak@gatech.edu regarding other upcoming course dates (including web-based options) or to arrange an offering onsite at your location.
NOTE: Follow this link for registration, pricing, and further information: DEF4509P.
See also:
What practitioners are saying about our SysML courses for MBE/MBSE ...
"I thoroughly enjoyed the course." -- Senior Systems Engineer, Fort Worth, TX
"Fun class - I especially liked the hands-on exercises and [the rover] project." -- Lead Systems Engineer, Pasadena CA.
"I enjoyed the class, and I'm finding application for it immediately here. Good practical stuff!" -- Software Design Engineer, Dayton OH.
"GREAT course!! Learned a lot and had fun." -- Lab Director, Huntsville AL.
"Very informative." -- Test Engineer, Pasadena CA.
"I really enjoyed this course ... you were able to answer all questions very effectively." -- Project Lead, Albuquerque NM.
See Note [1] below regarding SysML tool specifics and our recommended approach.
Course Administrator: For more information about this course or an offering at your location, contact Russell Peak at 404-894-7572 or russell.peak@gatech.edu.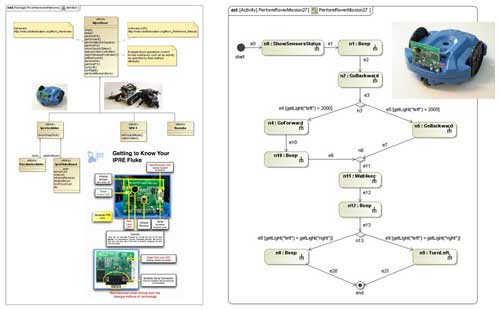 Notes
[1] In this "hands-on" SysML 201 course, we typically use MagicDraw as a representative SysML tool. We have worked with all the major SysML tools, and this course will give you a foundation to get started with other tools as well.
Even if your organization's primary tool is not MagicDraw, we recommend our SysML 201 course for your key SysML/MBE/MBSE people. Experience has shown this approach gives practitioners a broader SysML perspective and better insight regarding what to expect from your current SysML tool. One useful learning technique is contrasting and seeing something from a different perspective (in this case via a different tool implementation). This method truly helps SysML/MBE/MBSE professionals understand the technology more fully.

For example, we recently delivered these courses using MagicDraw onsite at an aerospace firm that has a different primary SysML tool (what we will call "Tool X" here). Several people took these courses who are Tool X "power users" and leads for promoting MBSE/SysML in their organization. At multiple points in the course they made comments to the effect of "I did not know SysML can support [concept Y] like that", "How do you do that in Tool X?", and so on. In other words, their view of SysML/MBSE was rather filtered by the specific SysML capabilities and philosophy of Tool X.

Resulting benefits for such users include (a) they gain a better perspective how to approach implementing more concepts in their primary tool (subject to its capabilities, and possible work-around strategies), and (b) they can better envision and formulate specific desired features to request that Tool X support in future versions.

Thus, we recommend to all non-MagicDraw-user organizations that they send selected SysML/MBE/MBSE "power users" and leads to take these short courses.